Summary
Good education is a stepping stone towards a meaningful and well-gratified life. Of the different phases of schooling, primary education is the foundational part of the whole learning process. It forms the basic pillars of literacy, numeracy and intellect for an individual. However, it is unfortunate that a large part of our country's young generation is yet devoid of this fundamental access to schooling. Harrington Ganj Block of Ayodhya district in Uttar Pradesh is one of the areas in the country facing this grim condition.

Being deprived of literacy and in turn, financial independence, women in the vulnerable communities of this region have historically been unable to support their families, and had limited decision-making power.

To change the situation for the next generation, with the help of INDIAdonates' NGO Partner, Supporting Association for Thematic and Holistic Initiatives (SATHI), women leaders in the community came together and pledged to start primary learning centres in the three villages to combat the learning gap of the children and ensure a smooth transition to the Government High School once they are ready.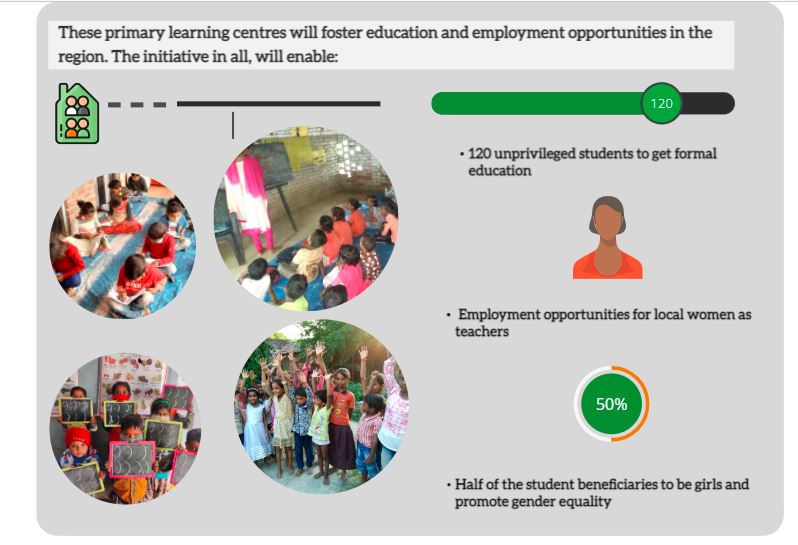 Local women from the community with college degrees will be recruited as teachers and children (5 to 12) will be given education using exciting, interactive methods in their local language. This will enable the community to be resilient against the adversities of pandemic and poverty thus, bring the student community to a pedestal where they can achieve their dreams. At the end of the program, the children, having achieved the desired learning capacity will be re-integrated into the mainstream education system.

Donors are what make ideas come to life. Your one-time contribution of Rs. 2500 will ensure education to one child for a full duration of one year and sustain the impact of primary learning centres. Help us keep up this effort. Please Donate!