Summary
Dhanmati Hantal, a mother and primary caregiver of an eight-year-old boy with cerebral palsy, lives in Duruguda village in Koraput district of Odisha with her husband, in-laws and three other children. Her husband's income of around Rs. 5000 in a month, is barely enough to take care of a family of eight and a child with special needs.
"I cannot go out to work, and socialise with others in the community as my child cannot move without support, and needs constant care. With the existing income of my husband it becomes very difficult to meet even basic needs of my family."
Dhanmati came across our partner NGO, Ekta and their 'Voice of the Disabled' center which provides residential therapeutic intervention through physical and mental training to children with disabilities. While the program helped her son in gaining partial mobility, Dhanmati is still a 24*7 care-giver, without any employment. Through their work, Ekta came to recognize the vulnerable economic condition of caregivers. Their 'Care for Caregivers' project is aimed to create sustainable livelihood solutions for caregivers, like Dhanmati.
With Ekta's support, 40 mothers of children enrolled in the 'Voice of the Disabled' center will work on producing and packaging Multi-grain Powder (sattu), Ragi Powder and powdered spices (turmeric, coriander, cumin and chilli powder), while their children simultaneously receive therapy and training at the center. The products will be sold through an outlet in the center as well as through linkages in local markets and the online retail platform, VillaMart.
Keeping with the demand within the local markets and in cities which VillaMart serves, the women will be producing and selling 16,000 packets of products earning a profit of Rs. 2,40,000 within 6 months.
Challenge
Caregivers' economic vulnerability is one of the unseen aspects of 'disability'. The absence of alternative institutional facilities and larger societal expectations often put caregivers in a very vulnerable position. According to a report by UNESCO, 1.7% of the total child population in India are differently-abled, thus, making them wholly dependent on their caregivers.
The need to devote most of their time to their children is the major deterrent in caregivers gaining financial stability.
"Treatment of my child is very expensive. He needs constant care and support, which leaves me no time to look for employment. My husband is the only earning member in the family, and his income is not sufficient. Through this center I will be able to gain a source of income to support my family, while my child is engaged in the program", says Sabita Kuldeep, mother of a four-year-old, with cerebral palsy who is also part of the residential therapy program at Ekta.
Solution
Ensuring employment opportunities to 40 primary caregivers of children with disabilities
The project will tap into creating local market linkages and strengthen existing traditional skills of the women. The women will receive training on cleaning, grading, machine operating, production, labelling and packaging as well as training on business plan, marketing strategy and branding. In total 16,000 packets of products will be taken to market earning a profit of Rs. 2,40,000.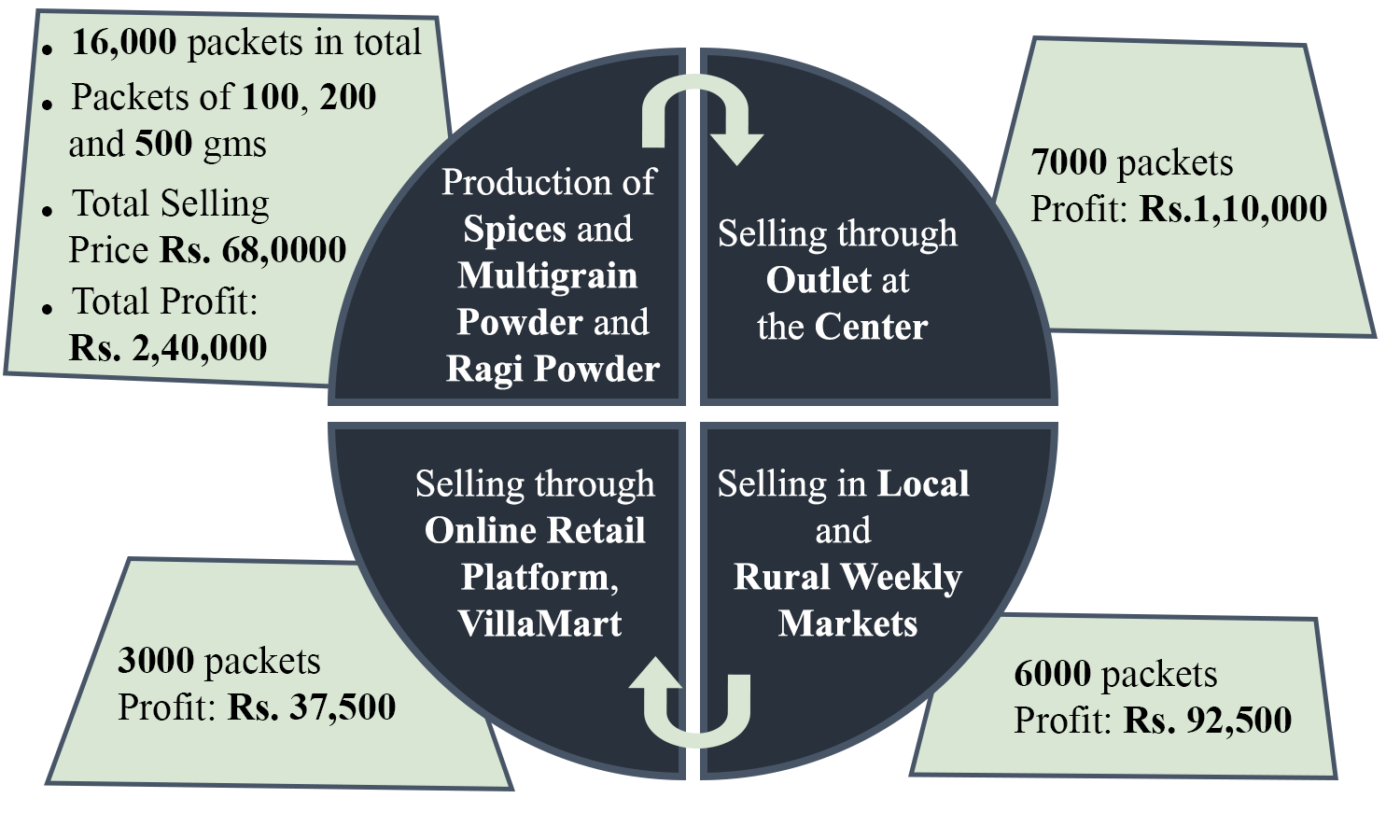 Your contribution of Rs. 13,750 can help create income for 40 caregivers and give them a life of dignity and respect.
Your Customised Contribution Plan
Support for 1 woman per Month
Rs. 2,291
Support for 1 woman for 3 Months
Rs. 6,873
Support for 1 woman for 6 Months
Rs. 13,750